166 €
Price (VAT not included)

If you want more information call us (+34) 935 64 10 94 or write to us
Electronic Basin Mixer Cold Water Batteries Urban
El grifo de lavabo electrónico con baterías 150mm 1 agua Urban es un modelo novedoso que sorprenderá por su diseño de líneas elegantes y redondeadas y por sus múltiples funcionalidades de ahorro y de cuidado de la higiene personal. Un grifo de lavabo electrónico que será el blanco de todas las miradas, gracias a su tecnología y su diseño simple y atemporal.
Es ideal para lugares públicos, ya que incorpora un sistema electrónico de detección para el accionamiento automático de la salida de agua, sin necesidad de tocar con las manos el grifo. También dispone de un útil sistema de bloqueo del suministro de agua a los 55 segundos de su apertura.
El grifo de lavabo electrónico con baterías 150mm 1 agua Urban es de muy fácil instalación, sin necesidad de utilizar herramientas de ningún tipo. Al incorporar la opción de uso con pilas no precisa estar cerca de una toma de corriente ni requiere un acondicionamiento especial.
Entre sus diversas funcionalidades dispone de un aireador antivandálico orientable que permite orientar el chorro de agua hacia la dirección que se desee, consiguiendo así un gran confort de uso. También incorpora un sistema ecológico de ahorro de agua que limita el caudal a menos de 5 litros por minuto, sin que el usuario perciba esta reducción.
En su proceso de fabricación se han seguido estrictos controles, para ofrecerte de esta forma una garantía de cinco años. Encuentra más propuestas para profesionales y para el hogar en el catálogo de novedades de Clever, así como en su página web.

5 years warranty
Clever taps are proved under strict quality controls, is for this reason that we offer 5 years guarantee in all our ranges.

Detection system
Detection system for the automatic activation of the water outlet, without touching the faucet.

Apto para sitios públicos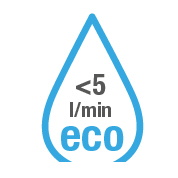 Flow reduction system
The maximum volume will be reduced to 5 liters x minute.

Easy sink taps instalation
Aerator that allows to direct the jet of water to the desired direction, thus obtaining a greater comfort.